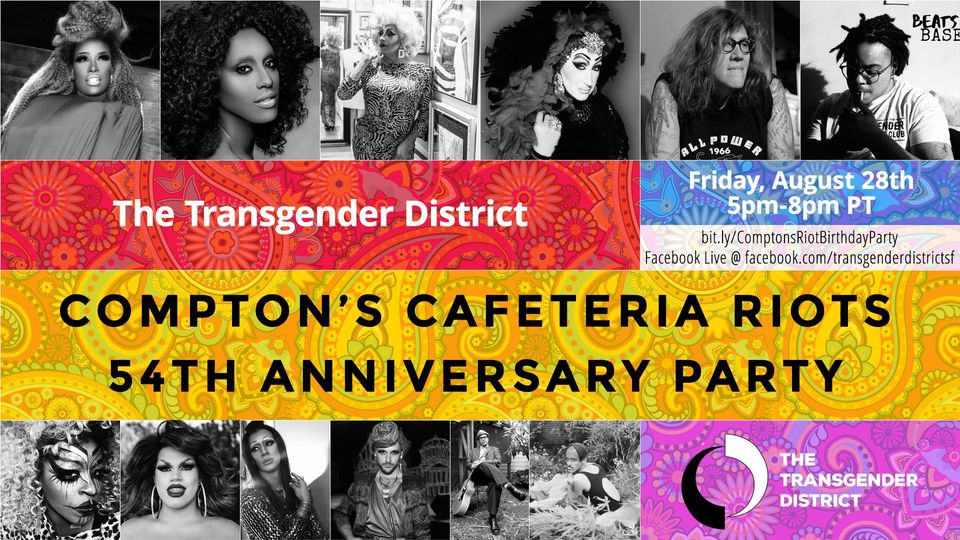 Compton's Cafeteria Riots 54th Anniversary Party
Watch live via Facebook. Go to link or see flyer for more info: https://www.facebook.com/events/823888928143112/
The Transgender District is thrilled to announce it's virtual celebration event of the 54th Anniversary of the Compton's Cafeteria Riots, commemorating the first documented uprising of transgender and queer people in United States history.
The 54th Anniversary of the Compton's Cafeteria Riots virtual celebration will feature iconic entertainment from queer and transgender performers and artist ranging from San Francisco cultural icon Juanita More; Illusionist and reality television star Bionka Simone of AsiaSF and Transcendent; highly acclaimed rapper and producer Wazi Maret; and will be hosted by San Francisco LGBT icons Roma Roma of the Sisters of Perpetual Indulgence, and drag artist and Transgender District co-founder, Honey Mahogany.
The virtual celebration, held on August 28th from 5pm-8pm PST will be available to stream on the Transgender District's Facebook page as well as on ZOOM, in addition to it's music and performance festivities will also feature keynote speaker, Dr. Susan Stryker- historian, professor and Emmy Award winning filmmaker who will share with audiences on how she discovered the rich history of transgender and queer resilience that nearly vanished from public memory.
The evening celebration is set to be a night to remember, with a roster of San Francisco LGBT icons gathering together to celebrate a riot that redefined freedom for queer and transgender people in San Francisco- ushering the city into it's present day reputation of being one of the most progressive cities in the world. The event will also feature queer culture favorites from experimental musician Tyler Holmes to singer/songwriter StormMiguel Florez; Draq Queen Story Hour's #BlackBenatar and transgender drag performers Rexy MariaAlicia Tapia, #SprungTBlack, and #SnowFlakeTowers.