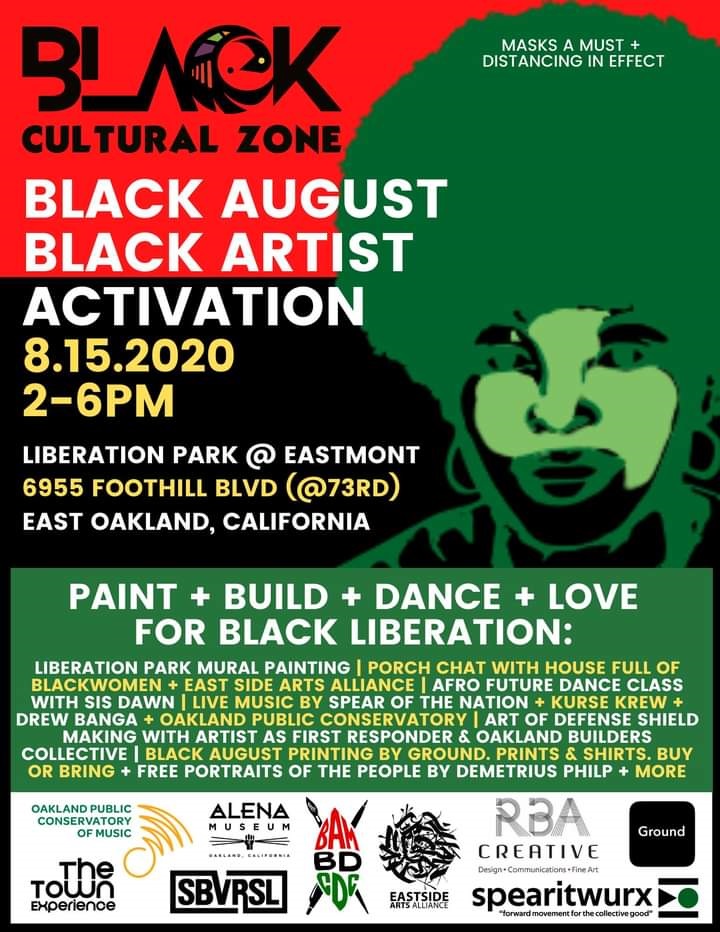 Black Cultural Zone – Black August- Black Artist – Activation
In honor of Black August, join us to activate the Black Cultural Zones new Liberation Park in East Oakland. This is a day for Black Artists to shine and share their creativity fo the liberation of land in Oakland
We will have:
Liberation Park Mural Painting
Porch Chat with House full of BlackWomen + East Side Arts Alliance
Afro Future Dance Class with Sis Dawn
Live music by Spear of the Nation + Kurse Krew + Drew Banga + Oakland Public Conservatory
Art of Defense Shield Making with Artist As First Responder & Oakland Builders Collective
Black August Printing by Ground. Prints & Shirts. Buy or Bring
Free Portraits of the People by Demetrius Philp
and MORE!
Masks a must + distancing in effect!
This event is coordinated by Spearitwurx & the Black Cultural Zone in collaboration with Subversal Media, Alena Museum, RBA Creative, Oakland Public Conservatory of Music, Ground/Binta, BAMBD Fest 2020, The Town Experience, & East Side Arts Alliance.
#SupportBlackArtists
#BlackAugust
#BlackPower
#Spearitwurx