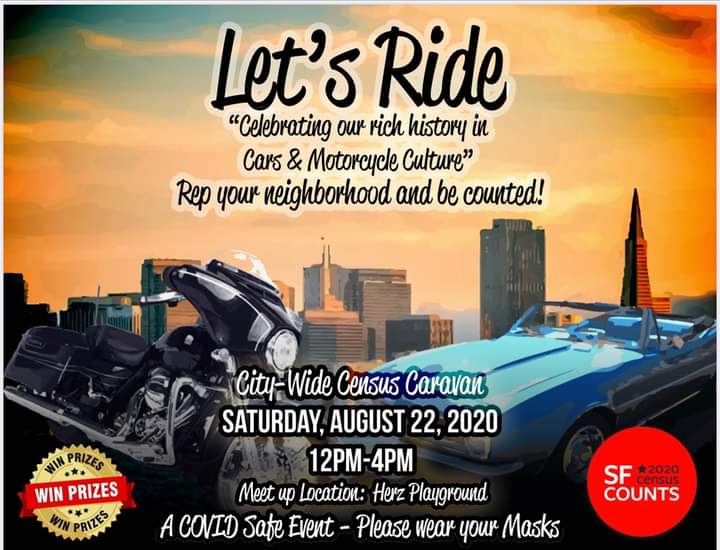 Let's Ride
Jump in your car or on your bike and LET'S RIDE city-wide THIS SATURDAY, August 22, 2020 from 12PM-4PM!
1) The SF City-wide Census Caravan is coming to your favorite neighborhoods. We will start our ride at Herz Playground in Sunnydale and then travel through Lakeview, La Mission, Fillmoe, Potrero Hill, Bayview/Hunters point and end in Visitacion Valley with loud cheers!
Prizes will be given for Best Car in show, Best Motorcycle and most Creative Census sign.
If you don't own a car no problem! You can greet us along the route from your doorway, yard, window or balcony!
2) To win a PRIZE in our raffle: Take a selfie when you see us in your neighborhood & post to Social Media
use hashtags #SFCensusCaravan #D10ForTheWin #MakeD10Count #SFCOUNTS
3) D10 Residents ONLY can get a 2nd Chance to be entered into the raffle by completing the two steps below
**COMPLETE your Census ‪between August 18-September 18‬
**Submit your proof of confirmation after completing the census to D10CensusChallenge@gmail.com
Weekly winners will be announced on Supervisor Shamann Walton's social Facebook & Instagram page @shamannwalton
Don't forget when we are ALL COUNTED WE ALL WIN!
#motorcycle #motorcycleclub #lowrider #oldschool #classicCar #rideordie #carculture #westcoast #bayarea #sanfrancisco #repyourhood #prizes #cash #carsofinstagram #car #oldskool #exoticcars #continental #camaro #corvette #mustang #harleydavidson #collectorcar #cadillac #ford #truck
Hourly Schedule
New Day
New Day
New Day