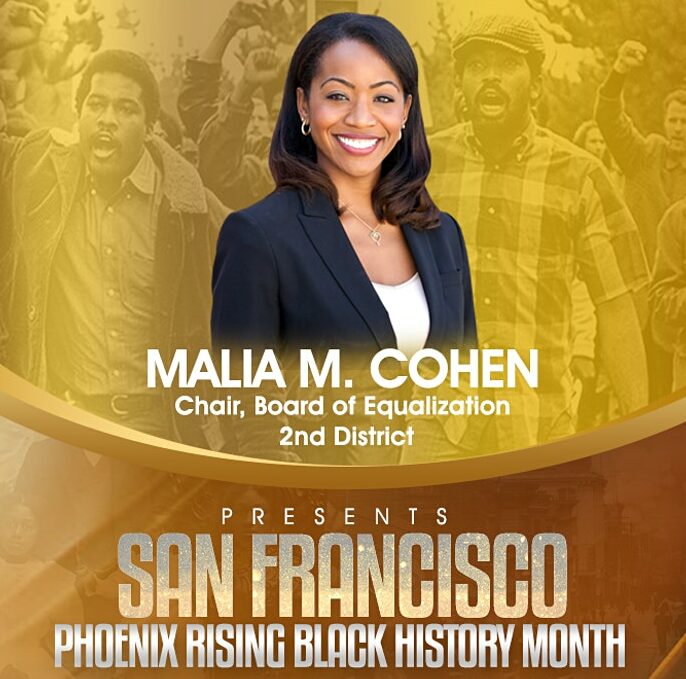 San Francisco Phoenix Rising Black History Month 2021
Emcee: Miranda Wilson
Special Guests
Mayor London Breed, City and County of San Francisco
Shamann Walton, President of the Board of Supervisors
Speakers
Congresswoman Barbara Lee
Secretary of State Dr. Shirley Nash Weber
LA County Supervisor Holly Mitchell
Entertainment
Lauren Adams
Ryan Nicole Austin
Jennifer Johns
Martin Luther
Kippy Marks
Dee Dee Simon
Participating Restaurants and Wineries
You can enjoy delicious food and wine from African American owned businesses during this year's virtual event. We ask that you order in advance to enjoy at home while viewing and throughout Black History Month from our participating local establishments. Please join us in supporting them!
Food and Dessert: alaMar, Auntie April's Chicken-N-Waffles, Brothers Cookin, Chef Robert Dorsey Catering & Events, Chris Evans Events & Catering, Gussie's Southern Table, Johnnie Mae's Gumbo, Jusla Eats, Minnie Bell's Soul Movement, Radio Africa Kitchen, The Red Door, Roderick's BBQ, Roux 7 Vine, Cupcakin' Bake Shop, Mika's Cupcakes & Catering, Pound Bizness, Yvonne's Southern Sweets
Wine: Brown Estate, P. Harrell Wines, Theopolis Vineyards, Thomas T Thomas Vineyards, Ungrafted, Urban Connoisseurs
View the complete list with order and contact information>
Sponsors: AT&T, ChaseCenter|Golden State Warriors, Comcast, Facebook, New Deal Advisors, Power Station, San Francisco Giants, UCSF, Wells Fargo
RSVP required to receive access link to celebration.
Please instruct your guests to rsvp.
A unique name and email address are required for each RSVP
FOR MORE INFORMATION contact D.R. Roberts Event Management – droberts@robertsevents.com
https://www.eventbrite.com/e/san-francisco-phoenix-rising-black-history-month-2021-tickets-139698900171?fbclid=IwAR2X8FhKhuEpvZlC0tcehLIC0wu2tzLf9yLgYoBjVMJxaToRlQIXKxgkpcc