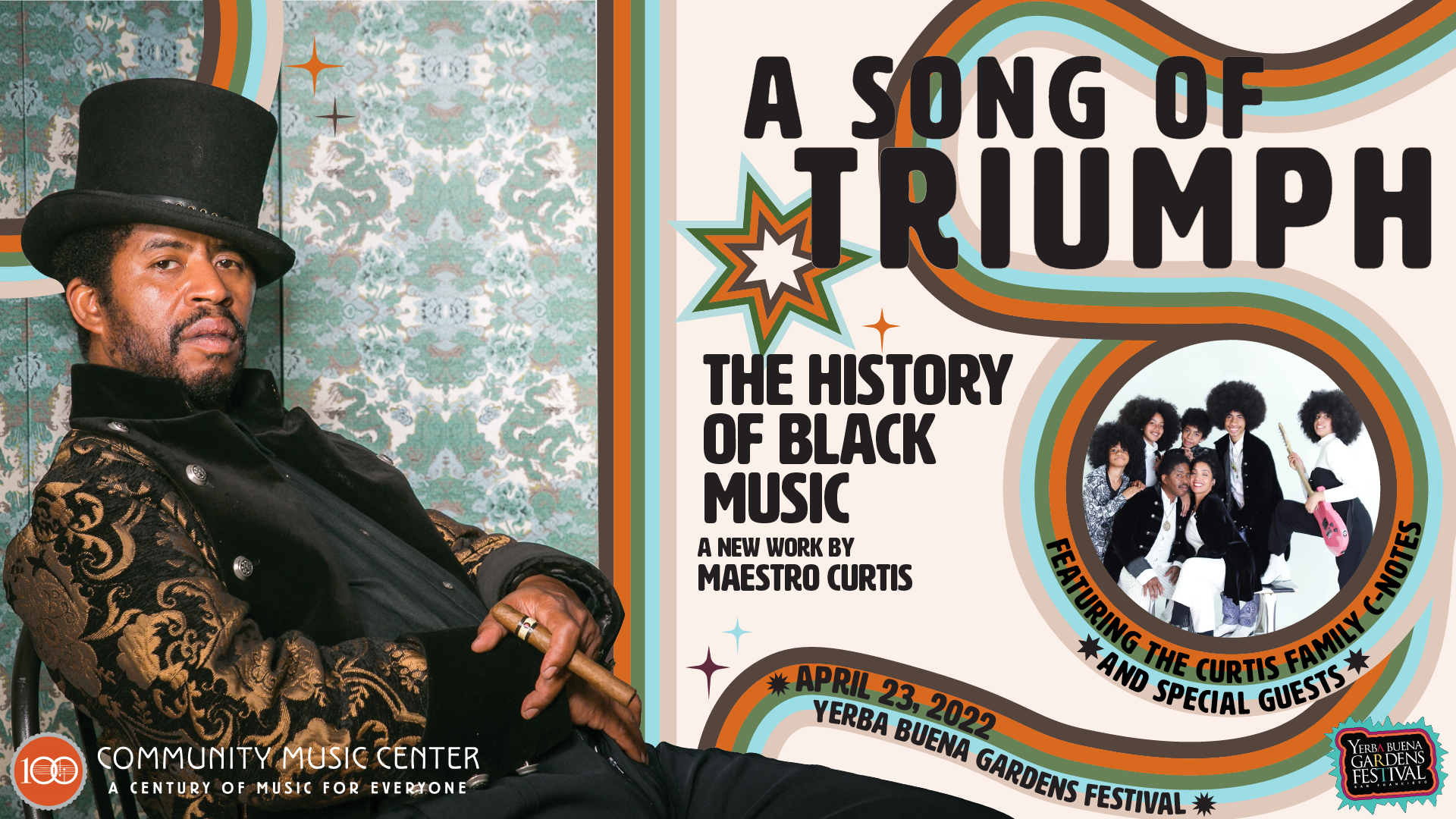 A Song of Triumph: The History of Black Music
Community Music Center, celebrating its Centennial, presents "A Song of Triumph: The History of Black Music," a new work by Maestro Curtis, Ph.D, featuring Maestro Curtis Ph.D, the Curtis Family C-Notes, and special guests, including including Dorothy Morrison, Bishop James Adams, Juan Escovedo, Ken Little, Larry Douglas, Ricardo Scales, Tony Bolivar, J.R. Hall, Tina Bryant, Neil Stallings, and Kam Krzy. The concert is an extension of CMC's Black Music Studies Program, offering a journey of  Black roots music and triumph through song, including hymns, field songs used to distract enslaved Africans from rigorous work, songs and culture created in the safe haven of the church, to music that the world enjoys today.
Saturday, April 23 at 1:00pm
Yerba Buena Gardens Festival (760 Howard St, San Francisco)
FREE
Read our interview with Maestro Curtis about A Song of Triumph here.
You are invited to see a free open rehearsal of "A Song of Triumph: The History of Black Music" prior to the world premiere, with additional remarks by Larry Douglas and Juan Escovedo.
Thursday, April 21 at 5:00pm
Jones Memorial United Methodist Church (1795 Post St, San Francisco)
FREE
Learn more about the open rehearsal here.
Song of Triumph Artists:
Bishop James Adams, Activist, evangelist, and pastor
Tina Bryant, Composer, producer, singer, pianist, played on programs with Kirk Franklin, John P. Kee, Daryl Coley, Hezekiah Walker, Ed Kelly, the Oakland Symphony, Bobby Jones, and many more
Tony Bolivar, Activist, professor, music minister, creator of Dream Achievers (an ensemble of musicians with Autism touring the U.S. and internationally), also performed with the likes of Andraé Crouch and Alvin Slaughter
Maestro Curtis, PhD is a husband, father, community activist, educator, musician, producer, composer, sound alchemist, scholar, author and martial artist with a strong background in Jazz, classical, gospel, blues, RnB, funk, country, world and sacred geometry music. Maestro Curtis is lead composer and artistic director of A Song of Triumph: The History of Black Music.
The Curtis Family C-Notes, San Francisco's "First family of song" with notable appearances including performances for Inaugurations for political figures and world leaders, SF Giants, The Golden State Warriors, Season 16 of America's Got Talent and the internationally aired holiday commercial for JC Penney. Curtis family youth (Zahara, Nile, Isis, Kiki, and Phoenix) are CMC students, Curtis family parents, Maestro and Nola are CMC faculty.
Larry Douglas, Residency/co-director/lecturer. Long time Bay Area music educator, music director for Johnny Otis and Shugie Otis, Ray Charles, and many more
Juan Escovedo of the famous E Family: Sheila E., Papa Pete Escovedo, and Peter Michael Escovedo
Reverend J.R. Hall, Minister and singer (from the famed Edwin & Walter Hawkins Singers), who has performed gospel music in the biggest arenas in the world
Kam Krzy, Rising hip hop star, born in Oakland, California. " KRZY" is an acronym meaning "Keep Rising toward Zenith Year"
Ken Little, Residency/lecturer (played with gospel legends James Cleveland, James Carr, Tim Toston), performed at the Gospel Music Workshop of America, music producer, composer, and choir director
Dorothy Morrison, Grammy Award-winning singer of "Oh Happy Day," Edwin Hawkins Singers, toured/recorded with Huey Lewis and the News
Ricardo Scales, Legendary concert pianist, composer, and music producer who has played for celebrities, and dignitaries from all over the world, including five American presidents, known as the Bay Area's "Black Liberace")
Neil Stallings , Legendary Bay Area guitarist who performed and toured with King Floyd, The Four Tops, Albert Collins, Big Mama Thornton, Sly Stone, and The Platters, to name a few