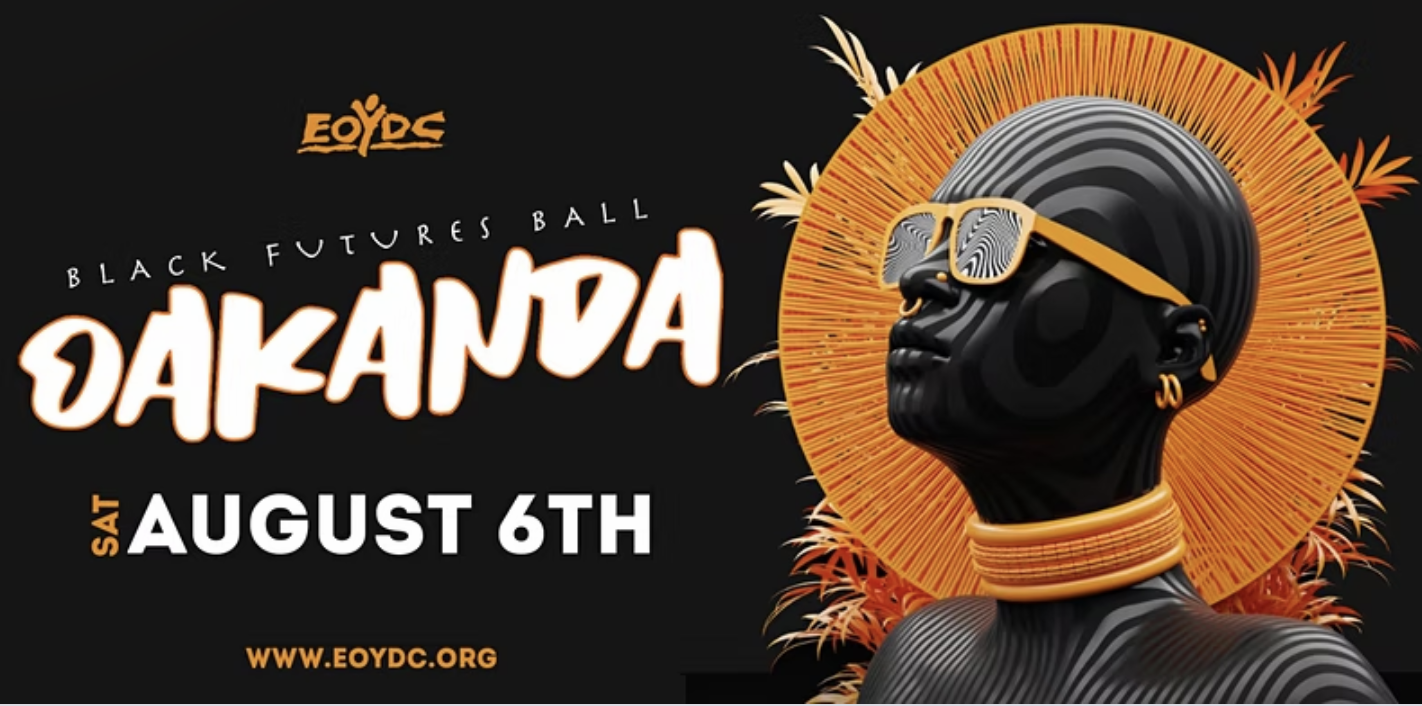 BLACK FUTURES BALL OAKLANDA
Hosted by Oakland native and Grammy-nominated artist RyanNicole with a special appearance by Goapele, this exciting event will blend the playful spirit of ComicCon with the glitz and glamor of a gala with the theme of Oakanda: From East Oakland to West Africa. Located at the beautiful Judge John Sutter Regional Shoreline, this will be a night to remember…
Enjoy tasty small bites, wine and cocktails, dancing, and music courtesy of DJ DCisChillin and Davey D, along with activations featuring stimulating visuals and high-energy immersive participation. Activation hosts include AfroComicCon, Black Terminus AR, Run The World Clothing, MOCHA, AeroSoul Art, The Town Experience, Ade Dehye, and Dark Star Universe.
Wondering what to wear? We are encouraging guests to have fun with their fashion at this event! From gowns, suits, and tuxes, to upscale AfroPunk-inspired looks, to full on Cosplay–we welcome a full-range of fashion.
Since 2015, EOYDC has provided more than $500k in scholarship funds to over 200 students. Last year, we provided over $150k in scholarship funds alone and we are looking to match or surpass that in 2022! In 2021, 100% of high school seniors participating in EOYDC's Pathway to College and Career (PTC2) program graduated high school on time with 93% enrolling in college or a vocational training program within 3 months of high school graduation, a track record we have proudly maintained since 2012.
What you can do: You can purchase tickets, make a donation, and/or become an event sponsor! Sponsorships are currently available at every level, starting with our Title Sponsorship, Vibranium Level ($25,000), scaling down to Bronze Level ($2,500). Please email selena@eoydc.org to secure your sponsorship.
At EOYDC, young people have a safe, welcoming, supportive place to create a future that includes enriching education and a meaningful career. We may not have the Wakanda-level tech to land a spaceship in a corner lot…yet! But we can and do land kids in college–with support from folks like you. At EOYDC, that is NOT just a fairytale for kids from Oakland. It is real.
The mission of EOYDC is to develop the social and leadership capacities of youth and young adults (ages 5-24) so that they achieve excellence in education, career, and service to their communities.
EOYDC is a nonprofit 501c3 organization – Tax I.D. # 23-7334590.