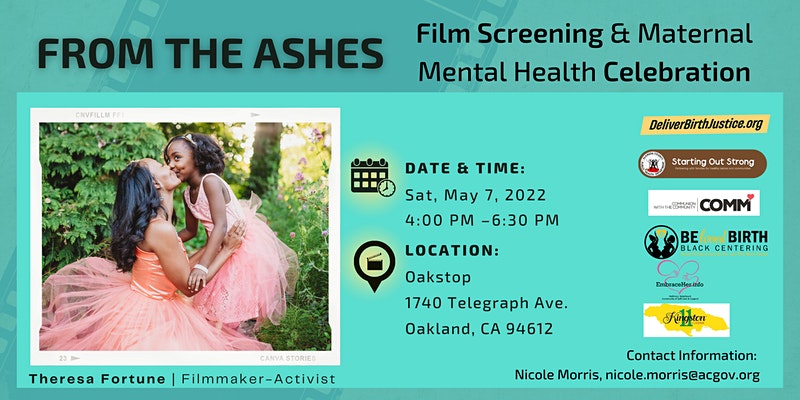 From the Ashes: Film Screening & Black Maternal Mental Health Celebration
Join the Alameda County Public Health Department (ACPHD)'s #DeliverBirthJustice Campaign for a Mother's Day event focused on not only celebrating and uplifting Black motherhood, but also for an authentic conversation about Black maternal mental health and the need for ongoing postpartum care and support. This event is co-sponsored by ACPHD's Starting Out Strong Programs, Alameda Health System's BElovedBIRTH Black Centering, and Communion with the Community.
We will be screening the documentary From the Ashes created by Oakland-native mother, filmmaker, and activist, Theresa Fortune. The screening will be followed by a panel discussion about the ongoing needs for Black maternal mental health support and resources for ongoing postpartum care.
Enjoy an evening filled with delicious catered food from Kingston 11, authentic discussion about mental health , on-site and local resources, giveaways, and celebration!
This event is free and open to the public. Due to limited venue space, we ask that participants register for the event here on EventBrite. While vaccination is not required, we ask that masks are worn throughout the event except while eating or drinking. During registration, please choose the "I'm a Mother" ticket if you self-identify as a mother and would like to be celebrated during the event.
Please email Nicole Morris, nicole.morris@acgov.org, with any questions related to the event.